Country Pumpkins Band
The Country Pumpkins are a 4 piece band comprising Rick Bamford on lead, slide and lap steel guitars as well as dobro and vocals, Peter Poole on drums, Michelle Scobie on acoustic guitar and acoustic bass and vocals plus Graham Scobie on acoustic guitar, mandolin, harmonica and vocals. Rick recently replaced Chris Curtis who had been with the band since they played at the Gympie Muster in 2009. Chris relocated to Melbourne for work purposes. Peter replaced Daniel Ostrosko in early 2022 after Daniel had been with the band for over a decade.
Rick's first paying gig was at Bankstown in 1968 and since then he's gone on to support all the top artists in Australian country music such as Chad Morgan, the Bushwackers, Gina Jeffreys, Kasey Chambers, Anne Kirkpatrick and Lee Kernaghan. He's won the Talent Search at the Gympie Muster and also gave international touring artist, Roo Arcus, his start in the business. Graham has a Tamworth Songwriters Association Award for 100 Years Australia and an Australian Gospel Music Award for Aussie Gospel Bloke.
Previously known as Bushland Boogie, the band had to change its' name in a hurry when it was booked at the Gympie Muster in Queensland in 2009 and there was already another band with the same name on the program. Briefly known as the Graham Scobie Band and recording a CD called Granite Town under that name, the band finally settled on Country Pumpkins and released a CD of children's songs called Pat the Possum. Written by Michelle, the title song was a finalist in the Tamworth Songwriters Association Awards in 2010.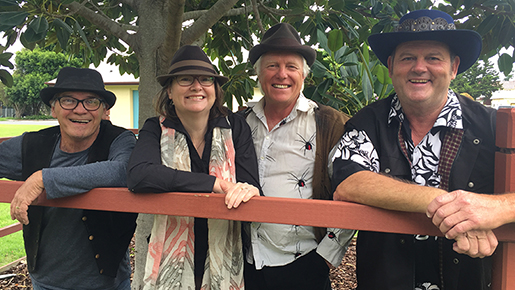 As the name suggests, the Pumpkins are primarily a country band, drawing on 6 albums of original material plus many of the classics of Australian country music by artists such as Slim Dusty, John Williamson, Norma O'Hara Murphy, Neil Murray, Shane Howard, Mike McLellan, Casey Chambers, Hugh McDonald, Greg Quill and Olivia Newton-John. As a live act, a Country Pumpkins show also features versions of songs by acts as diverse as Paul Kelly, Cindi Lauper, John Prine, Kate Wolf, Rodney Crowell, Beatles, Creedence, Monkees and Tina Turner.
In addition, the Country Pumpkins can provide a full bush dance and specialise in writing songs for specific occasions such as weddings, birthdays and other anniversaries.
In 2020 the band released 3 singles nationally to radio and the internet: Take All of My Love by Michelle plus Messed the Mosaic and Queensland Pumpkin Blues by Graham. Videos of these songs can be found via the Country Pumpkins youtube or facebook sites. This was followed up with the release of the Fresh Picked single by Rick Bamford in 2021 and launch of the full 12 song album of the same name on 1 Oct 2021. Three songs from the album were semi-finalists in the Tamworth Songwriters Association Awards in 2022: Redbank Creek by Rick plus Johnny Dozer Driver and A Cultivated Man by Graham. Yarri of Gundagai by Graham was also a finalist in the Lyrics Only Section of the same awards.
The Country Pumpkins can be booked through Graham Scobie at Scentertainment on 0409 225957, graham@scobie.com.au , www.scobie.com.au or www.facebook.com/countrypumpkinsband