Country Pumpkins
The Country Pumpkins are a four-piece band featuring Daniel Ostrosko on drums, Mary Couper on acoustic guitar, keyboards and lead vocals, Michelle Scobie on acoustic bass, acoustic guitar and lead vocals plus Graham Scobie on acoustic guitar, mandolin, harmonica and lead vocals.
Mary, Michelle and Graham are also recorded songwriters with Mary releasing a solo gospel CD called Living Water, Graham and Michelle writing their 2009 CD Granite Town and Graham having 3 previous albums: By the Banks of the Billabong in 1999 plus Aussie Gospel Bloke and 100 Years Australia in 2004. Graham has an Australian Gospel Music Award and a Tamworth Songwriters Association Award for 100 Years Australia and Michelle was a finalist in the same awards in 2010 for Patrick the Possum.
The Country Pumpkins can provide bush music, bush dancing, country music, gospel music, originals and kid's music such as the Pat the Possum Show. Samples of work can be found at www.facebook.com/countrypumpkinsband and bookings can be made by phoning Graham Scobie on 0409 225957 or emailing graham@scobie.com.au
Pat the Possum Show
Pat the Possum is an educational kid's show written by Michelle Scobie and performed by the Country Pumpkins. It has gone as far as the Gypmie Muster in Queensland and the Tamworth Country Music Festival where the title song was a finalist in the Tamworth Songwriters Association Awards in 2010. It has also been seen at venues all along the south coast of NSW from the Eden Fishermen's Club to the Eurobodalla Botanic Gardens, including the 2017 Tilba Festival.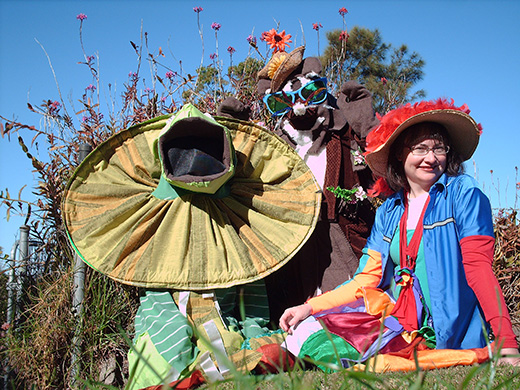 Pat the Possum features 9 songs written by Michelle along the theme of recycling and they are sung by characters such as Patrick the Possum, Rainbow Girl, Phil the Frillin' Frill-Necked Lizard and Isabelle Bird. Michelle has also made all the costumes for the show from recycled materials and the show allows audiences to participate using percussion instruments that are also made from recycled stuff.
A short video of the show can be found at www.facebook.com/countrypumpkinsband and booking enquiries can be made to michelle@scobie.com.au or by phoning 0416 259372.