Border Collies
ABN 54 192 847 373 and our Dogs NSW Member Number 2100081539
Border Collie Dogs:
We treat our breeding pair, King and Georgia, as if they are part of the family and they are equally at ease in the house, rounding up sheep or hurtling along bush tracks. We chose Border Collies because of their loyalty, active nature and suitability for the bush. Our dogs are all DNA tested to make sure that they donít carry any genetic diseases. You can keep up-to-date on our dog breeding program via our facebook page: www.facebook.com/jingarafarm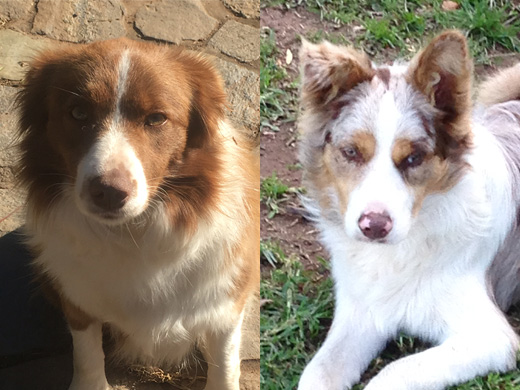 Introducing the two newest members of the Jingara Farm Border Collie family, Melody and Matilda, who were the only girls in a litter of seven pups born on 9 Mar 2021. They were the result of a mating between Georgia and a stud dog, Roy, from Orange. The plan is to mate Melody and Matilda with King once they are of age which will be towards the end of 2022 with potential new litters born in early 2023.
To that end we are currently constructing a purpose-built dog breeding facility in conjunction with a new shed which replaces the one burnt down in the bushfire on 23 Jan 2020. This new shed is much closer to the house and will house two separate dog breeding areas with both indoor and outdoor areas built to all current codes. Georgia will only have one more litter so Melody and Matilda will allow us to continue to provide happy, healthy puppies for the many people who would love to own a Jingara Farm bred Border Collie in the future.