Graham Scobie - Aussie Gospel Bloke
Music CD by Moruya singer-songwriter, Graham Scobie.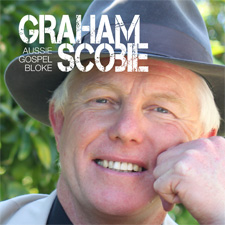 "Aussie Gospel Bloke" (view song lyrics) was launched at St Johns Anglican Church in Page St in Moruya on the South Coast of NSW on Saturday, 3 April 2004. "Aussie Gospel Bloke" contains thirteen original country gospel tracks of which one is an instrumental, and four are new recordings of gospel songs that were released on Graham's previous two albums: "The Church of Australia is the Bush" from "By the Banks of the Billabong" in 2000 and "Broulee Island", "God Lives in Australia" and "The Clearing" from Bushland Boogie's 2002 album "100 Years Australia".
Graham Scobie won the Tamworth Songwriters Association Award for Childrens Song of the Year for the title song of that album on 21 Jan 2004 and it was also a Top 10 Finalist in the Gold Guitar Awards 2004 in the Group or Duo Section. In addition, "The Church of Australia is the Bush" was a finalist in the TSA Awards in 2001 and "The Clearing" was an ASA finalist in 2002.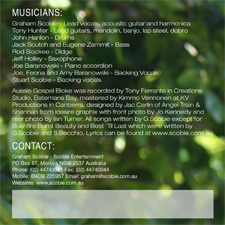 Most of the songs on the album include full band backing including Tony Hunter's significant contribution on banjo, mandolin, dobro, electric, acoustic and lap steel guitars. John Hanlon plays drums with Eugene Zammit and Jack Scutch on bass. Jeff Holley plays saxophone on one track, Rod Slockee does didgeridoo, Graham's brother Stuart accompanies with vocals on one song and Graham was also very happy to be able to include his band, Bushland Boogie, on one track. Backing vocals are by Joe, Feona and Amy Baranowski.
The album was recorded by Tony Ferrante in his Creations Digital Studio Recording in Batemans Bay, mastered by KV Productions and designed by Angel Train in Canberra. Graham launched "Aussie Gospel Bloke" nationally at the Australian Gospel Music Festival in Toowoomba on Easter Sunday 2004.
"Aussie Gospel Bloke" Available from Graham Scobie for $10 including GST and postage