By the Banks of the Billabong
This is the debut CD by Moruya singer-songwriter, Graham Scobie.

Available as digital MP3 only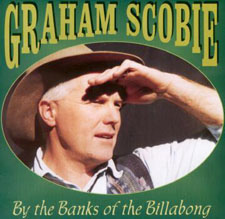 "By the Banks of the Billabong" is a collection of 12 original songs by Graham which recount the influences in his life so far from his upbringing in the small Hume Highway town of Holbrook, NSW, to his time in Moruya, on the South Coast of NSW, since 1981.
The songs are recorded in mostly acoustic mode by top Canberra band, "Itchy Feat", in their own studio with Graham doing lead vocals, acoustic guitar, mandolin and harmonica. The band comprises Neil Gray on guitar, keyboards, backing vocals, production and mixing, Loui Cerviatti on bass, Pat Italiano on drums and Wal Cooper on keyboards. Tony Hunter provides lead mandolin, dobro and banjo while Julie Armstrong provides backing vocals.